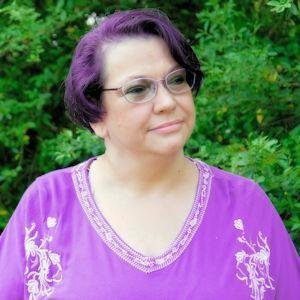 Name: Juliette Rouse
Nickname: Jette
Pronouns: She/Her
Joined: 2022
My name is Juliette, but I will also answer to "Jette". My family (Pam, Carlos & Layla Bonilla) have been members of Garner Grows for many years, but I was always hesitant to join because I worried my physical disabilities would prevent me from doing my share of the work. When I heard that Garner Grows was in need of a Website Administrator, I jumped at the chance to contribute to such a worthwhile cause, even if it was only in the IT Department! Even with my limitations, the garden team has always managed to find non-IT tasks for me to do as well, proving that Garner Grows really is an inclusive Garden for the whole Community!
You will often hear me joke that I am the "Black Thumb" in my family… I'm definitely more comfortable with IT tasks than with keeping plants alive, and you will find nothing but artificial plants in my home. Hopefully my time here at Garner Grows will help turn my thumb a bit more green!
I'm introverted and rather shy, so I rarely initiate conversation, but I'm always open to meeting other members, so if you see me at a workday, come and say "Hi". I'm terrible with names and faces though, so don't be offended if it takes me a while to get everyone straight.