I hope you have not missed out on all of the things that have happened at Garner Grows Community Garden this summer and fall.
The Garner Grows "Produce Stand Display" at the State Fair won a red ribbon only because an actual commercial produce company took first prize. Thanks to Pam, Layla, Sara, George, and June for that. The community garden's persimmon crop won a blue ribbon, and lots of other goodies and cut flowers placed well, too. As individuals, Tammy and Layla both did very well in flower arrangements and dehydrated produce competitions. All in all, the garden excelled at prizes and exposure.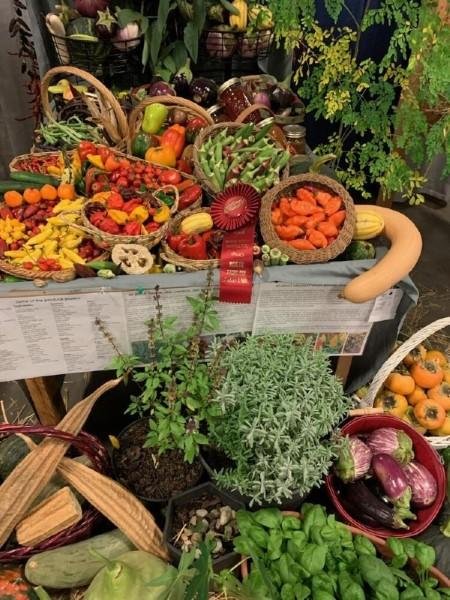 The Orchard Triangle side has changed lately. The mulched area has expanded and is on its way to gaining more fig trees, azeroles, pears, pomegranates, berries, etc. While the red raspberries wane, the pineapple guavas are still producing. We harvested the last of the roselle, peppers, eggplants, squash, okra and beans on Thursday before tonight's hard frost.
As the summer crops are taken out for winter greens, the raised beds remain like well-made beds waiting for opportunities and us to jump in. The deer sure like to! Weeding, mulching and structure make the garden neat and clean this time of year.
Trick or Treat the Trails was a lot of fun handing out candy to little kids in costumes and postcards about the garden to parents. Next year I will take off work to help.
This Saturday November 7th is our anticipated road trip to Century Link Apple Orchard. Some members want trees for their houses. Others look forward to cider and elusive apple fritters.
Share the fun, recipes, knowledge, plants, flowers and produce. Grow in the garden!
Pete